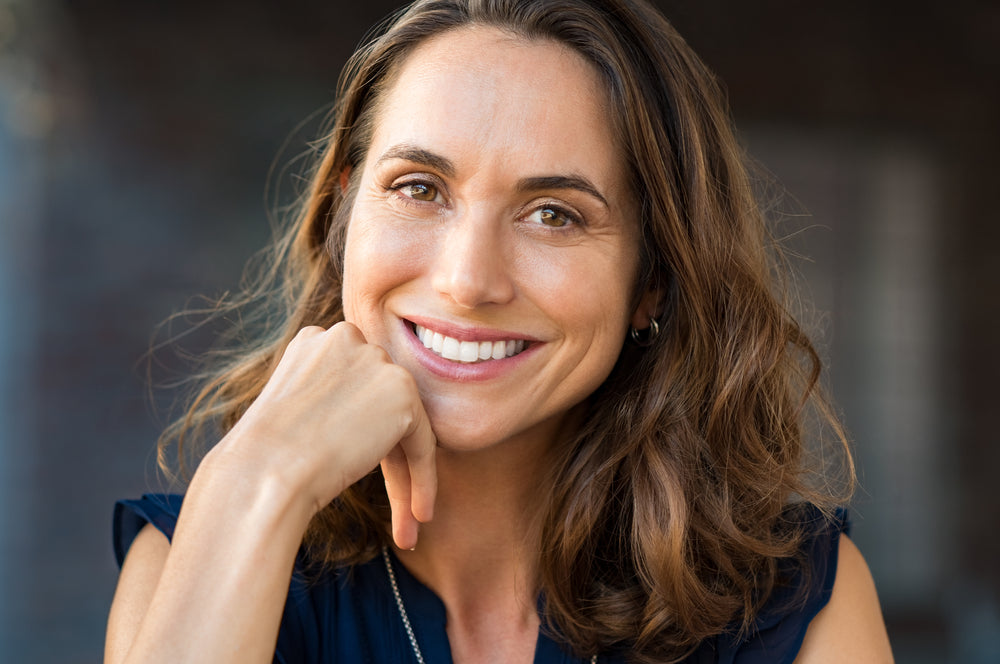 Top Skin Concerns and Best Anti-Aging Skincare Products
As women, we become increasingly aware of our skin as the years go by. We look for signs of aging, such as wrinkles and fine lines, and wonder what treatments best preserve our youthful complexion. Thankfully, a range of skincare products is available to us that can help delay the inevitable!
In this article, we're going to explore common aging skin concerns, including wrinkles, dry skin, puffy eyes, dark circles, redness, hyperpigmentation, dull skin, and how to keep your skin clean – plus our list of natural skincare ingredients and essential skincare products that will enhance any beauty routine and help your skin age gracefully.
Top 7 Skin Concerns for Women
1. Smooth Wrinkles and Look Younger
Wrinkles are caused by a combination of factors, including aging, sun exposure, and genetics. As we age, our skin loses collagen and elasticity, which leads to wrinkles. Sun exposure can also damage the skin and cause wrinkles.
To help reduce wrinkles, natural ingredients such as vitamin C, retinol, and hyaluronic acid can be effective. Natural ingredients like aloe vera, green tea, and coconut oil may also benefit skin health.
2. Banish Parched, Dry Skin
Stressed skin is caused by a lack of moisture in the skin. This can be due to cold weather, low humidity, hot showers or baths, certain skin conditions, and certain medications.
Natural ingredients such as coconut oil, shea butter, and aloe vera can moisturize your skin. These ingredients contain fatty acids and antioxidants that can help to hydrate and protect the skin. Additionally, using a humidifier in your home can help to add moisture to the air, which can also help keep your skin moisturized.
3. Tame Puffy Eyes
Allergies, lack of sleep, hormonal changes, and genetics can cause puffy eyes. Certain natural ingredients have been known to help reduce the appearance of puffiness.
These include cucumber, chamomile, green tea, caffeine, and aloe vera, which can be found in eye creams, gels, and masks. However, it is best to consult a dermatologist to determine the most effective ingredients for your case.
4. Perk Up Your Eyes
Various factors, including genetics, aging, allergies, eczema, and sinus congestion, cause dark circles. Some of the best natural ingredients to enhance your eyes include vitamin C, which helps to brighten the skin and reduce the appearance of dark skin shading, and caffeine, which helps to constrict blood vessels and reduce puffiness. Natural ingredients that enhance the skin around your eyes include aloe vera, chamomile, and cucumber.
5. Calm & Reduce Redness
Skin redness is often caused by sun exposure, irritation, and certain conditions such as rosacea. Some natural ingredients that can help reduce redness include aloe vera, green tea, and licorice root.
Aloe vera is known for its anti-inflammatory properties and can help soothe irritated skin. Licorice root is known to help lighten age spots and hyperpigmentation, which can also help reduce the appearance of redness.
It's important to note that everyone's skin is different, so it may take some trial and error to find the best ingredients for your specific skin type.
6. Enhance Dull Skin
Dull skin can be caused by sun damage, pollution, poor diet, and lack of hydration. To achieve a radiant, glowing complexion, taking care of your skin both internally and externally is essential.
Some natural ingredients that can help boost the appearance of your skin include vitamin C, which helps brighten and smooth the skin's tone, and antioxidants such as green tea and berries, which can help protect the skin from damage caused by free radicals.
Other effective ingredients for promoting a healthy, radiant complexion include aloe vera, which soothes and hydrates the skin, and honey, a natural antibacterial agent that can help clear up blemishes. To achieve the best results, it is essential to use a combination of these ingredients in a skincare routine tailored to your skin type.
6. Smooth Skin Pigmentation
Skin dark spots, also known as hyperpigmentation, can be caused by sun exposure, hormonal changes, and certain medications. The best natural ingredients to help with hyperpigmentation include vitamin C, which can brighten the skin and reduce the appearance of uneven tone, and licorice root extract, which can inhibit melanin production in the skin.
Other effective natural ingredients for hyperpigmentation include niacinamide, a form of vitamin B3, and kojic acid derived from mushrooms. These ingredients work by inhibiting the production of melanin, the pigment that causes dark spots on the skin.
7. Maintain Healthy, Clean Skin
Cleansing your skin is an essential step in any skincare routine as it helps to remove dirt, oil, and makeup that can clog pores and lead to acne and other skin problems. Using natural ingredients to cleanse your skin gently is a great way to maintain healthy, clear skin.
Some of the best natural ingredients for cleansing include honey, which has antibacterial properties and is excellent for soothing dry or irritated skin, and coconut oil. This natural moisturizer can help remove makeup and dirt.
Other great options include aloe vera, which can help to reduce inflammation and moisturize the skin, and green tea, which is rich in antioxidants and can help to protect the skin from environmental damage.
The Best Natural Skincare Products for Aging Skin
Choosing the right natural skin care products is essential for maintaining youthful skin. These products are made with ingredients that are derived from nature, such as herbs, plants, and minerals, and are free from harmful chemicals and synthetic preservatives.
Natural skincare products are gentle on the skin and can help to prevent irritation and allergic reactions. They also help keep the skin hydrated and nourished, slowing down the aging process and reducing the appearance of fine lines and wrinkles. By selecting the best natural skincare products, you can help to keep your skin looking great and age gracefully.
1. Start with a clean slate - use a gentle, moisturizing cleanser
Start with a clean slate when choosing the best skincare for aging skin. That means selecting a daily, anti-aging face wash that is moisturizing and gentle on your skin.
Natural ingredients with anti-aging properties like aloe vera, honey, and coconut milk can help to deeply cleanse while at the same time providing crucial hydration that older skin needs - without stripping away natural oils or leaving it feeling dry.
This is especially important if you have acne-prone skin or sensitive skin. A moisturizing cleanser is an essential step to follow to achieve healthy, glowing skin naturally.
2. Use a moisturizing face mask to remove dead skin cells and reveal brighter, more youthful skin
As we age, our skin can become dull and dry. Using a quality clay mask each week is an anti-aging best practice - as it allows you to pamper yourself, exfoliate your skin, and restore your complexion.
Look for face masks for sensitive skin with natural and organic ingredients, including alpha hydroxy acids, glycolic acid, coconut charcoal, Kaolin clay, and bentonite clay, that gently remove dead skin that can dull your complexion.
A nourishing face mask will help brighten your overall skin tone and gently purify and absorb excess oils and environmental toxins while stimulating circulation to improve your skin's texture. So get on board with this anti-aging mask trend and breathe new life into aging skin!
3. Use an antioxidant-rich serum to protect your skin from environmental stress and free radical damage
Vitamin C, Vitamin B3, Vitamin E, and Organic Green Tea are potent antioxidants that help protect your skin from environmental damage. With regular use of an anti-aging, antioxidant-rich serum, your skin will thank you for it!
Vitamin C guards against photo-aging caused by UV radiation brightens skin, and evens skin tone for a beautiful glow. Vitamin B3 smooths uneven skin tone by reducing the appearance of dark spots and smooths fine lines and wrinkles.
Vitamin E prevents the loss of moisture and helps boost collagen production. At the same time, Organic Green Tea increases cell turnover to fight visible signs of aging while simultaneously acting as a mild exfoliant.
By using an antioxidant serum every day, you can give your skin a protective shield against premature aging and keep it looking youthful and radiant.
4. Hydrate, hydrate, hydrate - choose a moisturizer that hydrates skin and apply it liberally
When it comes to skincare for aging adults, moisturizing is essential. Moisturizers can help lessen the appearance of fine lines and wrinkles, reduce dullness and irritation, and even make a difference in how quickly your cells turn over.
Select moisturizers that contain hyaluronic acid, organic aloe vera, shea butter, organic jojoba oil, sunflower oil, and Vitamin B5 that will help to protect the skin barrier and stimulate collagen production for healthy, beautiful skin.
Aloe vera can both hydrate and soothe your skin; organic jojoba is perfect for oily skin as it balances the amount of natural sebum produced by your body; Vitamin B5 helps retain moisture; Shea butter works as a healing ingredient with anti-inflammatory properties to smooth skin texture and is a favorite if you have dry skin; and sunflower oil boosts hydration due to its high levels of fatty acids such as oleic acid.
With these ingredients combined in a daily moisturizer, you can gain the best natural results in keeping your skin youthful and healthy. And don't forget to pamper your eyes with eye moisturizers formulated specifically for this delicate skin - you're eyes will thank you!
5. Plump Tired, Dull Skin with a Dose of Hyaluronic Acid Serum
And to help your skin stay youthful and hydrated, select anti-aging products that contain hyaluronic acid - a definite favorite. Hyaluronic acid is a naturally occurring substance that helps keep the skin hydrated and plump.
When applied topically, it can penetrate deep into the skin to provide long-lasting hydration and improve the skin's overall appearance.
6. Remember sunscreen! Apply SPF 30 or higher every day
Sun protection is one of the most important steps to protect your skin and maintain healthy, glowing skin. Applying SPF 30 or higher every day, even indoors, is essential for shielding your skin from age-accelerating UV damage.
Vitamin C and Vitamin E are two of the most effective anti-aging ingredients and help protect against environmental aggressors such as air pollution and sun damage - and can even enhance the overall effectiveness of your SPF.
Love Yourself by Loving Your Skin!
Remember, the best defense for healthy, beautiful skin is a good offense. By following these simple tips and any others recommended by your board-certified dermatologist, you can keep your skin looking its best for years to come.
Start by investing in the best anti-aging skin care products to help you love yourself and protect your skin's natural beauty.